You already know that change and challenge are inevitable in life.

Do you know how to move into light from there?
Make It Your Best Year Yet:
Navigating Change and Challenge Into Light
Live Growthshop* Wednesday February 27th in Great Neck, LI
Goals and resolutions that we make for a new year are important, but they involve change and challenge.
That is why it is so valuable to study how to move from change and challenge into light. When accomplishment and a sense of fulfillment outweigh feelings of stress in your daily life, you have started moving into light.
It is time to free yourself from:
• Anxiety  • Self-doubt    • Anger    • Loneliness
And expand in:
• Peace    • Confidence    • Compassion    • Connection
* A Growthshop is a dynamic, experiential, and interactive live event
The event is led by Tildet, an inner mastery specialist with a history of exciting, mind-opening events and talks. Join us for inspiration, experiential exercises, stimulating ideas, and a welcoming community!
And an exciting note: Tildet has been selected by the American Institute of Stress to be part in developing a stress mastery program, a program that is being rolled out nationwide for individuals and organizations!
What most people don't know is what happened BEFORE I became a sought-after speaker and a specialist on Inner Mastery.
I have had my own intense experiences with change and challenge. The two that impacted my life most seriously were a car accident at age 15, where one family member was killed and I was nearly paralyzed, and years later the unexpected dissolving of my 20-year marriage.
In both cases I chose to—and had to—navigate in order to find the body and mind healing that I needed so much. This led me into the practice of meditation, and studies of inner mastery with leading teachers across the country.
As I became clearer and stronger, I felt called to help others learn to navigate their own changes and challenges and move into a more fulfilled and successful life. I began offering group classes and speaking engagements, and then added individual coaching as well.
Since then, I have had the opportunity to work with and help thousands of amazing people, and I stand poised to work with and help many more.
Now it's your turn!
It inspires me that you want to find the meaning in the changes and challenges that arise in your life, that you are feeling called to take time to honor your own needs… that you are ready to find the value of change and challenge and live with gusto!
It is YOUR time to rise and shine!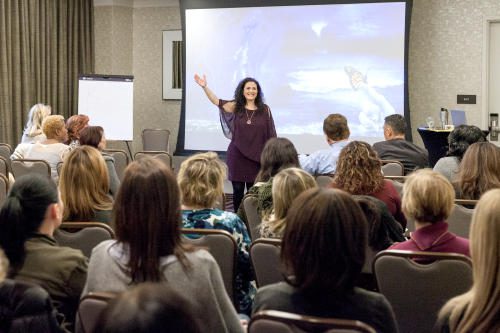 "Tildet creates an environment that creates heart to heart dialogue. This safe space allowed me to look deeper into myself and feel more confidence in who I am and I can take my next steps forward in all areas of my life."
"It was wonderful to experience the transformations happening in the room right before our eyes. The ability to communicate, to see, to hear others and yourself is truly transformational."
"I really needed to hear how important it is to recognize emotions as a feedback mechanism and not just impulsively react."
"Very enjoyable workshop to get you thinking about your goals and how to take action to define and achieve goals one step at a time."
"I was inspired and enlightened. Tildet, you are a beautiful light and I am in awe of your magnificence. I know in my heart I can achieve anything and you have reassured me that we all have the ability to live our dreams and live the life we all deserve. We all have greatness within. Thank you for all you do."
Navigating Change and Challenge Into Light