Uncover Your Riches
Free Live Event for Leaders and Entrepreneurs: Tuesday March 6, 2018

Find out the ancient truths, brought into the modern world, that can change your life for the better. In this two-hour event, we will touch on the important issues which can transform your life when practiced with awareness and energy.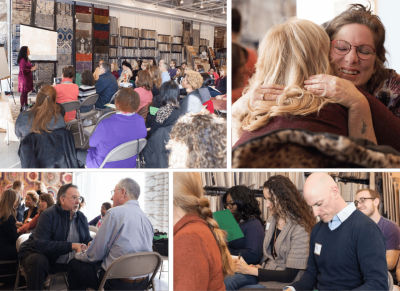 Life after practicing the principles discussed in Uncover Your Riches:
You wake up most days feeling happy and confident
You connect to what makes you feel alive
You close the gap between who you are and who you want to be
The event is led by Tildet, an inner mastery specialist with a history of exciting, mind-opening events and talks. Join us for inspiration, experiential exercises, stimulating ideas, and a welcoming community!
Tildet creates an environment that creates heart to heart dialogue. This safe space allowed me to look deeper into myself and feel more confidence in who I am and I can take my next steps forward in all areas of my life."
– Randi Lenahan
It was wonderful to experience the transformations happening in the room right before our eyes. The ability to communicate, to see, to hear others and yourself is truly transformational."
– Mike Giambertone
Topics we will cover include:
How to

align your actions to who you truly are

, and how that benefits you and everyone you know
The number one key to achievement and fulfillment
The impact of our inner world and mindset on how we create, perceive and respond to the outer world
How to go deep in daily life for a more rewarding experience of self and other
Cultivating and sustaining high levels of grounded energy so your day feels inspiring and so you accomplish the goals you set
There will be experiential exercises. These always leave our audiences energized and embodying what they have learned and care about. We also include Q&A and coaching interactions, which personalize the presentation to the audience members who are present for a more exciting and rewarding experience.
I really needed to hear how important it is to recognize emotions as a feedback mechanism and not just impulsively react."
– Wendy Hodor
Very enjoyable workshop to get you thinking about your goals and how to take action to define and achieve goals one step at a time."
– Althea Johnson
We will share not just good ideas, but more important, good experiences and a growth in your skills to make this your best year yet.
See you there!
When: Tuesday, March 6th 7:00pm to 9:00pm; registration and networking start at 6:30pm
Location: Residence Inn by Marriot, 9 Gerhard Rd, Plainview, NY 11803
Read more about our attractive sponsorship opportunities. And one more testimonial:

I was inspired and enlightened. Tildet, you are a beautiful light and I am in awe of your magnificence. I know in my heart I can achieve anything and you have reassured me that we all have the ability to live our dreams and live the life we all deserve. We all have greatness within. Thank you for all you do."
– Tracey Giambertone